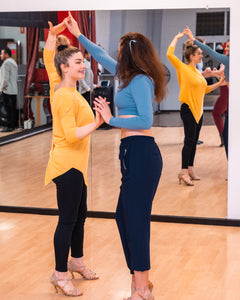 Free Dance Class For You + Friend Or Save with Discounted Start Price
Regular price
$40.00
Sale price
$0.00
---
Free Dance Class for you and a friend.
Ever wanted to learn to dance? or perhaps you know how to groove but want to learn to dance properly? Bring a friend to Dance Amor Studio and start learning together.
Unleash Your Dance Potential:
Claim Your Free Group Dance Class Trial or Enjoy 50% Off on Private Lessons

Ready to step onto the dance floor and experience the joy of movement? We're thrilled to offer you an exclusive opportunity to discover the magic of dance with our enticing trial offer! Choose between a Free Group Dance Class Trial or enjoy a 50% Off on Private Lessons and embark on an exhilarating dance journey.
Why Choose Us?
Expert Instructors: Learn from our team of experienced and passionate dance instructors who will guide you every step of the way. They are dedicated to helping you develop your skills, gain confidence, and unleash your inner dancer.

Variety of Dance Styles: Explore an array of dance styles that cater to all interests and skill levels. From elegant Ballroom and Latin dances to energetic Salsa, Bachata, Rock n Roll, Swing, and fitness Class like Zumba, we have a dance style that will resonate with you.

Fun and Supportive Environment: Join a vibrant dance community that embraces inclusivity and camaraderie. Our studio is a safe space where you can express yourself, make new friends, and build lasting memories.

Customized Instruction: Whether you prefer group classes or private lessons, our offerings can be tailored to suit your needs. Enjoy the benefits of learning in a group setting or opt for personalized attention with private lessons.
Claim Your Offer Today
Your Free Group Dance Class Trial: Experience the energy and excitement of our group dance classes with a complimentary trial. Immerse yourself in the music, meet fellow dance enthusiasts, and get a taste of the dance styles that ignite your passion.

50% Off on Private Lessons: Take advantage of our exclusive offer and enjoy a 50% discount on private lessons. Receive personalized attention from our instructors, tailor your lessons to your skill level and goals, and progress at your own pace.
Join Our Dance Community Today
To claim your offer and reserve your spot, simply fill out the form or contact us at Your Free Group Dance Class Trial. Don't miss this chance to explore the world of dance, discover your rhythm, and unlock the dancer within. 50% Off on Private Lessons
Dance has the power to transform lives, connect people, and bring immense joy. Take the first step towards an extraordinary dance journey—join us for a trial class or private lesson and let the music move you. Get ready to dance your heart out and create memories that will last a lifetime!
Monday Dance Class 4 Week Term
Saturday Dance Classes Here 4 Week Term 
Saturday Dance Classes Here
During our dance classes, we promise to make your learning curve as fast as possible through intuitive tips, tricks of the trade & exercises. As a result, your dancing will increase by 3 to 10 times. As a result, there will be more time for students to have fun, grow, and to participate in a supportive environment of fellow students and staff members. Join like-minded individuals and practice together to level up. Embrace each dance move with attitude. Even if you think you got 2 left feet we can help you get on the dance floor with confidence and style.